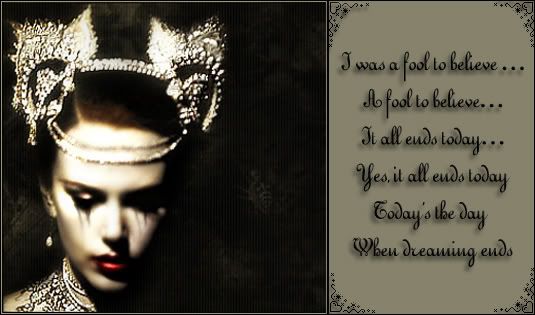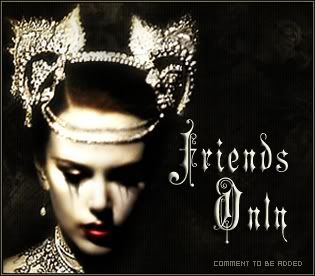 Banners by
vblackangelv
Current Mood:

sad
Willing to negotiate on prices!!
Had to start somewhere with pricing though! FYI all bottles are *at least* several years old; please inquire for specific dates so I can look them up for you!
(
Current bottles for sale!
Collapse
)
Items will be deleted as they are paid for so if it's on here it's still for sale! Shipping will be $6 to anywhere in US via Priority mail with Delivery confirmation or $4 for First Class in a padded mailer; insurance can be purchased at additional cost. Will ship anywhere as long as shipping is paid!
Tribal Evolution (that's us!) will be debuting two numbers from our upcoming full length show, Le Cirque Nouveau, at Yaa Halla Y'all this
Thursday, August 19th at the Grapevine Convention Center (1209 South Main Street, Grapevine Texas 76051)
.
Here is a link to the show's website with more information
.
A little bit about the show the two numbers we will be performing are from: A magical dance concoction; part vintage cabaret, part hypnotizing belly dance with essences of smoky ragtime, raucous vaudeville, mysterious vagabonds and deliciously exotic world music all in an interactive atmosphere of beguiling characters and scintillating scenes. Be transported to an era of the past that never truly existed outside the realm of fantasy.
Doors at 6 P.M. Show 6:30 P.M. Tickets are $18 each. Please come out and support Tribal Evolution in their quest for "People's Choice Award" at the event!
Since I know that pictures tend to catch people's attention more than just words here is a teaser pic of a little bit of my costume for tomorrow night:
Hope you'll come out for the show & vote for us! ;)
Speaking to all you Dallas Fort Worth people! My belly dance troupe and I are competing in a very big competition tomorrow night where the winners are picked by audience ballot! Obviously we are hoping to pack the audience with as many friends as we can so if you can we'd love to see you there!
Before anyone suggests it, no it cannot be altered smaller without ruining the embroidery. It's about a size 14+ & adjustable to much larger sizes(laced back bodice to which a modesty panel can be added under the lacing, overskirt has lacing & underskirt has hook & slide); looking for the measurements now but pretty adjustable. Will measure for seriously interested parties.
EDIT: Measurements!
Please remember the bodice is supposed to be TIGHT & worn as you would a corset as it is boned so you would not wear another corset beneath it! Also you can leave some of the lacing open in the back & add a modesty panel!
Bust 41
Waist 35
Hips are freesized.
This is a gown for ROYALTY. Made from very high quality black cotton velvet and elaborate gold brocade. Heavily embroidered & embellished. The sleeves are wrapped ribbons of velvet which were embroidered and then pearled within an inch of their life. Also has an attached dainty pouch hanging off the back of the bodice made in matching velvet & embroidered in the same designs. Made for someone about 5'6/5'7; I am 5'5 and had to hitch the skirt up pretty high under the bodice to get it to a good length for me.
(
Bigger pic & other views behind the cut!
Collapse
)
If anyone is interested in making an offer (purchased for $1300 & worn twice) please private message me! Hat, bodice, detachable sleeves, overskirt, underskirt gold panel built into black overskirt but ties on sides; hard to explain) & chest 'chain' included; chemise, snood and hoop skirt not (previously purchased).
Shipping to be determined once we figure out who's buying it. Happy to deliver to Pennsic. PM me with any questions
Please feel free to cross-post; this post is public!
Thanks!!
The bad thing about losing weight is uber-cool stuff you bought before losing weight is now too big. Tried on the bodice to my black & gold Elizabethan and I am swimming in it. As I don't ever intend to get back where I was sadly I must let this go.
Prices are somewhat negotiable but not by much. Will happily work out payment plans if needed. No, I will not cut yardage on the fabrics or trim.
(
Silks, stretch, velvets & more! Fabrics & trims galore!
Collapse
)
(
Costumes, wigs & belly dance headpiece!
Collapse
)
Payment via paypal; would prefer payments sent as 'Personal Gifts' if possible which will save me the paypal fees & not cost you anything extra.
Happy to hand over in person if possible; just ask when we can meet up. Shipping cost for those that can't pick up will depend on the amount of items purchased but I prefer to ship via priority mail which is $5 for their small bx, $12 for the medium box & $15 for their large box. Please contact me for specific shipping quotes or with any questions you might have.
Thanks for looking!
Opening this sale up to the public at large now. ;) I have a lot of fabric, trim & costume goodies for sale and I'm consolidating them all in this post! Hope you will take a look!
I actually am getting to this BEFORE they open the community for posts! HA! I had a few people email me and ask me for my present list already so I started working on it & to my surprise finished! I'm actually not quite sure how this year will go as this is the first year almost all of the items are very specific items. *shrugs* I mostly pulled directly from my Amazon wish list rather than just linking the whole thing & then asking for more random stuff. Last year was not a banner year so I am hoping it will be better this year.
So! Here is my list; I'll post on the community (which is
HERE
btw) next week along with my intro.
EDIT
: Got my list posted in the community;
here is a direct link to it!
(
How it works; most of you know already since I've been doing it since 2006 so I'll cut but be sure to look behind here if you don't!
Collapse
)
My wishes:
1. Windstone Editions Black Grand Unicorn or brightly colored Poads
– I recently was able to start collecting Windstones as I had been wanting to for many years. So far I have a complete white unicorn family & almost a complete black unicorn family… I'm just missing the
Black Grand
. Would pretty much kill for one. ;) I also fell in love with Poads.
I currently have three of them
, from left to right you see the blue mosaic
#4
, the silver spangle
#1
and the black peacock. As you can see I like the bright colors & don't like the more natural colored ones (no browns, whites, greys… that sort of thing).
2. Fluevog Mini Sugar boots in black, size 9.5
– I've wanted this pair of boots since I first saw them. I tried a pair on when I was in San Francisco for a Bellydance convention & the 9.5 fit perfectly (they run small). I would love to get my hands on a pair of these boots, used or new!
3. Pug chewies, treats and toys
(for the dogs) – With three enthusiastic little monsters we go through dog treats, chewies and toys quite rapidly. Their favorite games are fetch and tug of war; their favorite treats are crunchy stuff like 'pupcorn' in the cheese flavored kind. They do not like regular 'milkbone' type treats. Picky, I know. Toys; they love anything stuffed but tend to tear them apart so fast only the sturdy toys survive! Lol!
4. 25 yard tribal dance skirt
– Would love a scarlet red or teal one! My favorite seller is
Flying Skirts
but as long as the skirt is lightweight (not see through please!) I will be happy!
5. Home Fragrance oils
– I have several oil burners as with all the animals I like to try and keep our house smelling nice. I've been using Bath and Body Works 'Winter' & 'Leaves' so far this year and I like them alot. I like the spicier scents rather than the citrus or floral ones. For example; my house has those air fresheners that smell like apple cinnamon all year round. So Glade 'Apple Cinnamon' plugins house oils would work too if you didn't want to get the burner oils.
6. Goodies from LUSH.
– LOVE LUSH. Very particular about the products I like though. Would love a tub of Gorgeous moisturizer. Also would love the marzibain bubble bar, ceridwen's cauldron bath melt, Soft Coeur Massage bar (my favorite!). I prefer the 'honey' scents (currently have HIWTK soap & solid perfume, HoneyWood shower gel) & do not like the citrus or really overly floral.
7. Babydoll Tshirts from ThinkGeek
– For some reason ThinkGeek has the most comfortable, well fitting tshirts I have come across. I would love to get the
Meh.
,
Keep Out of Direct Sunlight
or
WTF?
shirts. Size Large.
8. SCA useable fabrics
- I do historical recreation with the
SCA
& make most of my outfits. I try and be a *little* historically accurate and use only natural fibers. I love to work with silk the most and have many a gown made out of smooth dupioni (I prefer the lack of slubs). Would love love to get my hands on large amounts of silk or linen! I tend to wear blacks & reds but have been trying to get more blues & greens. Do not like purples, pinks or oranges.
9. Queen Elizabeth's Wardrobe Unlock'D
- The holy grail of a female SCA costumer. Never have been able to afford a copy though!
10. Embroidery Software
– If anyone happens to not need their Bernina Artista 180 software and the fancy dongle that comes with it I'd love to take it off your hands. I'm pretty new to all this but I'm hoping to be able to create my OWN designs eventually so I need one of the higher end software programs. Unfortunately I've not been able to afford it yet. :( I'm pretty sure whoever reading this that might have the software would know what I need before I do!
(
Here is my mailing address & email behind the cut!
Collapse
)
Please be sure to do your own wish list and please try and comment on this post with a link to it. I don't promise to be able to send gifts to every one I read but I will sure try!
EDIT 11/18/09: Making this entry public due to requests!